Portico Quartet* are a band from London.
Their sound is made partially distinctive by the use of the
Hang
,
a 21st Century percussion instrument. The group is composed of Jack Wyllie (soprano and tenor saxophone), Duncan Bellamy (drums), Milo Fitzpatrick (double bass), and Keir Vine (Hang and percussion). Nick Mulvey, former Hang player and percussionist, left in early 2011 to pursue his career as singer-songwriter. He is replaced by Keir Vine.
After nearly two years of playing mainly small gigs and b
usking regularly outside the
National Theatre in London, they signed to
Babel Label
in 2007. Their first album, *Knee-deep in the North Sea* was released on 5 November 2007 coupled with performances at the
London
Jazz Festival
at
Purcell
Room
together with pianist
Michiel
Borstlap
and drummer
Bill
Bruford
.
They are now signed to Real World
Records. The name portico comes from when one of their gigs was rained off in Italy, and they ended up playing under a
portico
. Their third, most recent, self-titled titled album was released on January 30
th
2012.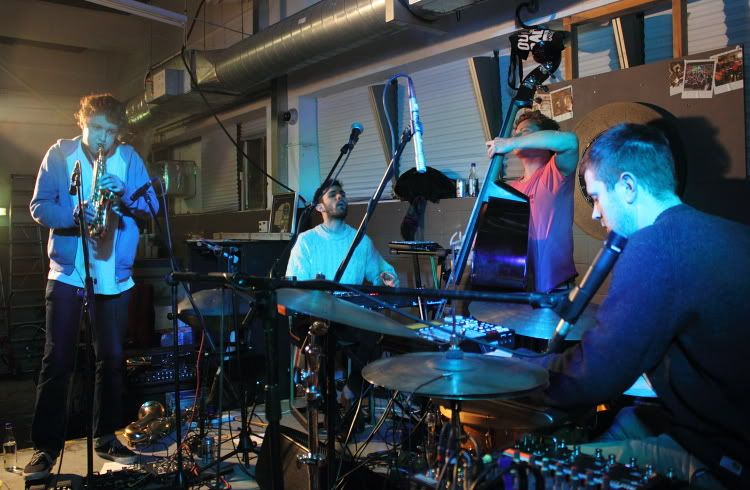 I was first introduced to PQ in 2005 by some very good friends who studied
at SOAS and King's college. I heard about this house party in South London where these four amazing musicians played an impromptu gig in their own house around 5am. Soon after I was invited to a gig at Royal Festival Hall, Southbank where I witnessed and heard a form of Jazz music unlike anything I had ever heard before. Using instruments I was previously unaware of, and conjuring a truly magical and mystical sound which came across as more like a soundtrack/score than a collection of songs. I can honestly say I was truly blown away and have been a fan ever since.
Now in January 2012 I find myself extremely excited at the chance to see
them in a relatively intimate show at Rough Trade Shops East, London. Portico Quartet are here to promote they're third and latest self-titled Album. As it's an in-store gig the set is short, consisting of 6 tracks, 4 of which were taken from the new album.
The new album is a big step forward for the band yet also makes perfect sense too with the sounds that have recently been coming out of London, on
the more electronic / dance side of things. But do not be perturbed by this new angle, PQ still maintain their unique and captivating sound yet successfully incorporate an electronic edge/flavour, taking influence from such artists as Four Tet, Burial and Mount Kimbie. All tracks on the album are recorded from single live takes.
Kicking off with 'Window Seat' the band's sound manages to fill the room swiftly in a subtle yet encompassing manner, gently warming the crowd. The ambience of the strings gradually loses to the sweeping electronic pads serving up a wonderful introduction, which leads straight into the next track 'Lacker Boo'. Beautifully dark, the second track from PQ really shows their deep and soulful side and the repetitiveness of the backbeat becomes almost hypnotic.
'Ruins' is the track which first instantly stood out to me from the album and still has that solid PQ signature sound which rides over a low-slung 2-step beat. The combination of the double bass bassline and cutting hi-hats rhythm builds a sense of anticipation and slight unease before the Alto sax comes in with strong heart-wrenching melodies and lead lines whisking you away into a heavenly soundscape.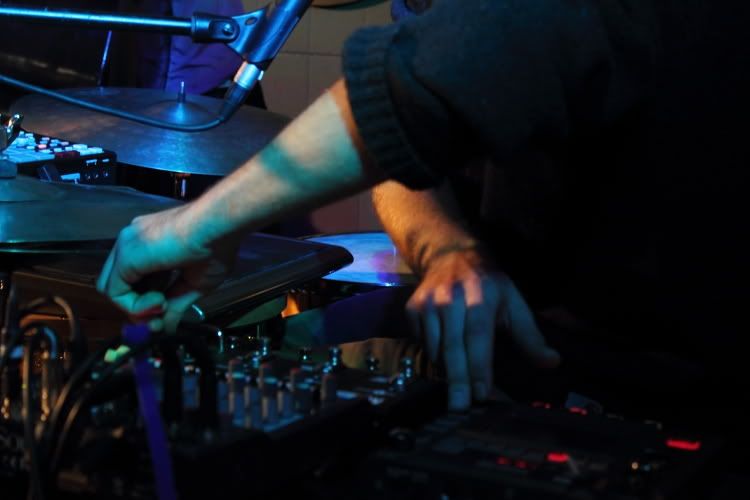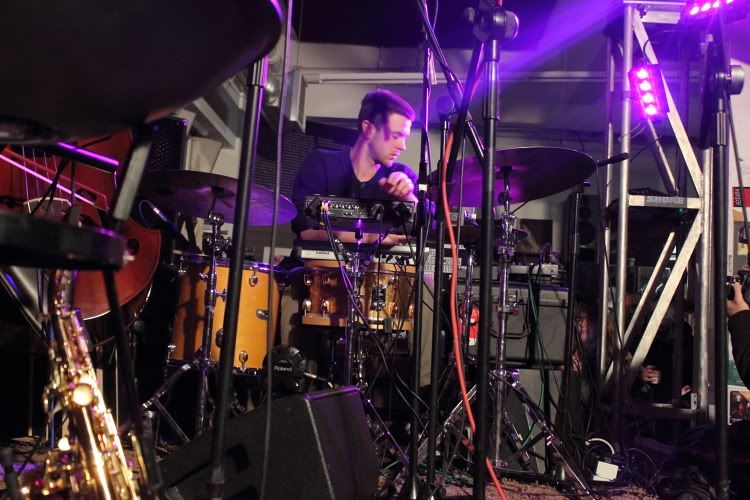 'Coy Carp' is introduced by the band as a song that didn't make it to the final album but should have been included in their eyes....that's the record industry for you.... (However, if you buy the album from Rough Trade you do receive an exclusive bonus cd which includes 'Coy Carp' and 4 other tracks.)The track has a more industrial side to it with high pitched whines from the sax player and glitchy electronic beats, yet morphs through the PQ orchestra-like sound ending with a 90 sec piano reprise.
The penultimate song from the band ('Spinner') kicks off with a bassline
I'm sure Roni Size would be envious of and a really nice rim-shot break but gradually builds into a very busy sonic climax. Finishing with 'City Of Glass' I am happily satisfied that Portico Quartet are still the band I knew before but have even more scope for the future with the incorporation of electronics. The four highly accomplished musicians have a great connection with each other and 'City If Glass' is the perfect end to a short but amazing gig.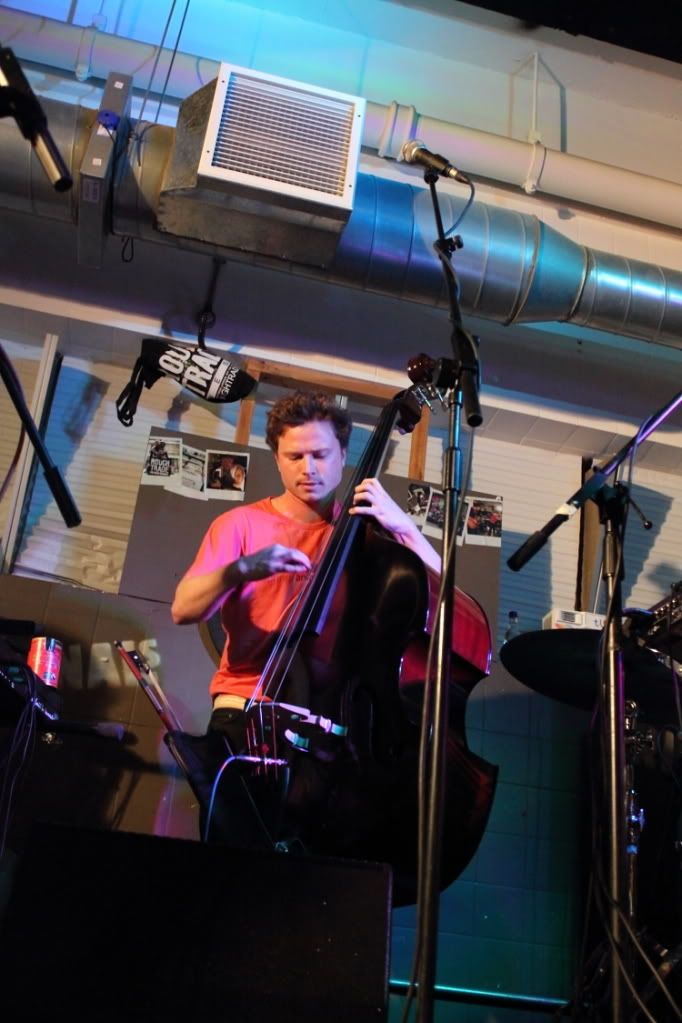 I
thoroughly recommend anyone to go and see them, even if the word
'Jazz' generally puts you off. They are a unique and wonderful band and I look forward to see where they will take us next. I really wouldn't be surprised if they were approached to do a film score or two soon...
Check out a live studio recording of 'Ruins' here including a link for a free download.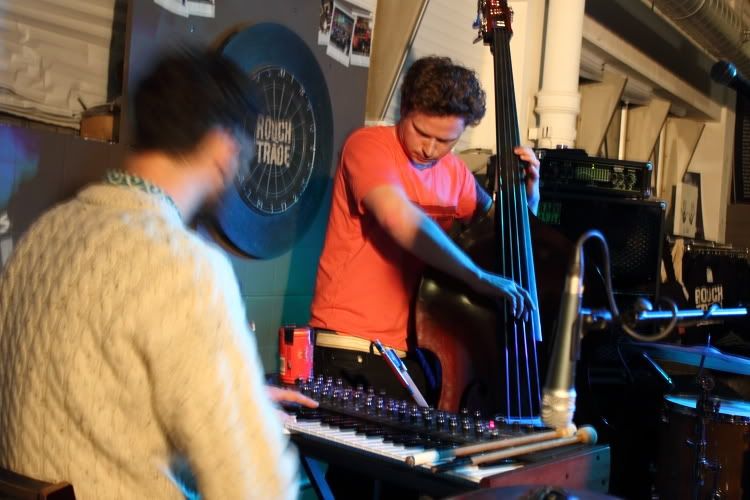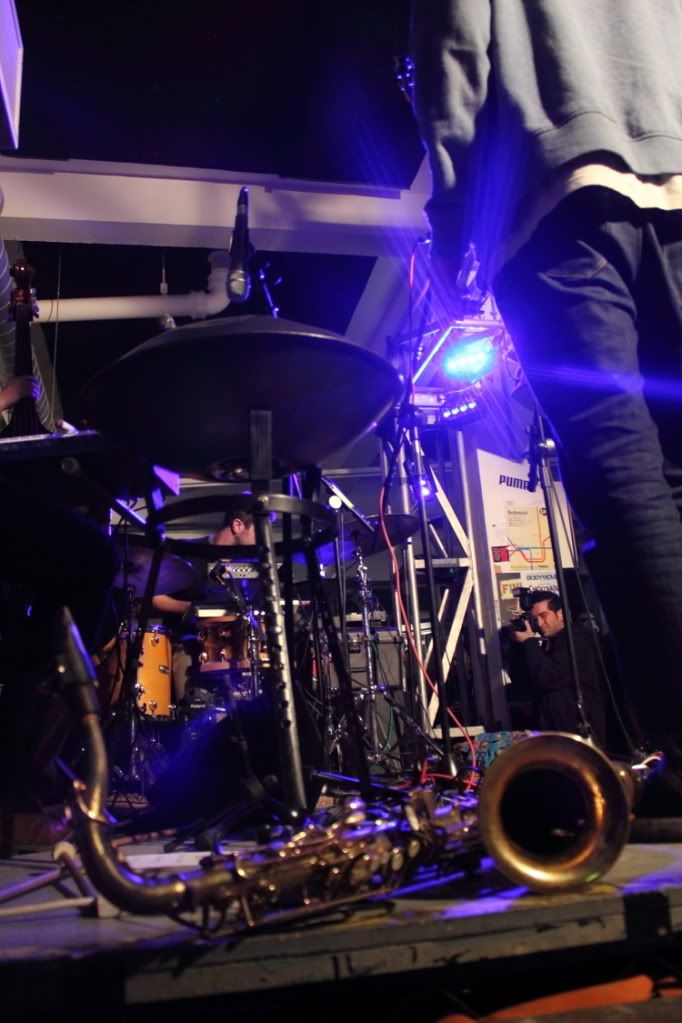 Special thanks goes out to
Paul Cross
from taking the time to write this review for Lionstigersrahhh.
For more on Paul Cross's music, check this out...
Mixcloud